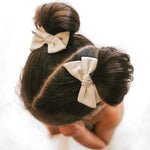 Styling her tiny tresses is part of all the fun, but have you ever thought that style options seem limited? We're here to tell you not to worry! We've got you covered and honestly, simplicity works best when it comes to tiny humans. Theres no need to go searching for complex hairstyles all over pinterest that will leave your little one squirming to break free. Simple hairstyles look the best (in our humble opinion), are classic favourites and less time consuming (quick hairstyles are key when styling your little one). Our Top 5 Hairstyles are trendy, timeless, and best of all, quick! We'll also give you some variation inspo to keep your styling game strong and your ponytail boredom at bay. So go grab your tiny tot, a brush and comb, some elastics, and your favourite Knotted Crown bows because you'll be dying to try one of these ultra-adorable toddler hairstyles!
1. Top Knot Pigtails
Three words: Top. Knot. Pigtails. Yes, this trend is still going strong and we highly recommend trying this look if you haven't yet. Why? Because your heart eyes will explode and she'll be reeling in the "adorable" compliments all day long (we know how much you like to hear them)!
To achieve this look, simply brush her hair into two pigtails on top of her head, wrap with an elastic, pull her hair into a bubble bun (the length and height will be the final look, so only pull as much hair into the bun as you want in her final result), wrap the excess hair around the base of the bun and secure with a second elastic.
Variation 1: Try leaving out the excess hair from her bubble bun top knot, and position it at the back of her head, for a super trendy and adorable spin on this look.
Variation 2: Try brushing her hair into two pigtails and pull her hair all the way through. Twist each piggie until they become stiff and wrap them into two buns, take a second elastic and wrap around the base to secure.
We recommend pairing these types of pigtails with our pigtail or twist knot bows. Place them in front, behind, or on the outer sides of her top knots.
2. Half Up Top Knot
This style has been popular in the grown-up realm for a few years now, but the time has come for it's rise to fame amongst the littles. Seriously, this look belongs here.
To achieve this hairstyle, section the top half of her hair (everything above her parietal ridge, aka the portion of hair above the curve of her head which begins approx. 3-4 inches above her ears) into a ponytail at the top of her head. Wrap with an elastic, twist hair until stiff and wrap into a little bun. Secure with a second elastic and ta-da! Easy Peasy.
Variation 1: Try this look with a bubble bun top knot (reference to Top Knot Pigtails for directions) Leave her excess hair out, positioned towards the back of her head, or wrap it around the base of her bun.
Variation 2: Try this half-up top knot style with piggies! Seriously, it's double the cuteness (literally).
We recommend pairing this style with either our pigtail, pinwheel, classic, or twist knot bows. Try placing them either in front of or behind her top knot.
3. Basic Top Knot 
We already know what you're thinking, top knot obsessed? And the answer is, YES! And here's why: not only are top knots right on trend, but they save your little cuties hair from tangles and messes (trifecta much?!). Tucking that hair up into a top knot keeps it out of her face, away from food messes (did we just say skip the hair wash later? basically) and away from the harsh elements that can lead to split ends and ultimately, tangles! So ride this top knot trend high and strong, you'll thank us later!
To achieve this look, simply brush all of her hair up into a high ponytail and wrap with an elastic. Don't pull her hair all the way through, instead pull it into a small bubble bun and wrap some of the remaining ends around the base of the bun. Leave out some loose ends for an adorable, tousled look and secure with a second elastic.
Variation 1: You already know the drill, to mix up a messy bun look simply switch over to the twist and wrap style. Once her hair has been brushed into a high ponytail, twist it until it becomes stiff and wrap it into a bun. Secure with a second elastic and leave out a few loose ends.
Variation 2: Take it higher! Place that messy top knot right on top of that cute little head of hers.
For a relaxed and stylish finish, we recommend pairing this look with either our pinwheel or classic bow. Try placing them underneath or in front of that adorable, tiny top knot!
4. Classic Ponytail
We promised to keep your ponytail boredom at bay, but don't underestimate the power of the classic pony. Not only is this look timeless, but it's super quick and easy! Plus, that moment your daughters hair is long enough for a ponytail is super exciting and we like to recreate those kinda feelings around here. So lets keep that tiny pony around for a little bit, shall we?
Just in case you need directions for this look, we're here for you! Simply brush that silky toddler hair up into a pony and secure with an elastic. Voila, you're done! Is there anything easier than that?!
Variation 1: Turn her pony into a loose bun with some loose ends. Just don't pull her hair out of the elastic all the way.
Variation 2: Play around with the placement, up, down, high, low... just don't place it on the side, promise? We're just joking, you can if you want to. We won't judge your style choices.
No matter where you decide to place her pony, try topping it off with a Knotted Crown bow! We recommend any of our styles (seriously, you can't go wrong). Just place a bow on top of her ponytail and just like magic, the ponytail boredom is gone!
5. Simple French Braids
We know we promised you quick hairstyles, but this look can be quick (trust us). Once you get your technique down, a couple of simple french braids on a tiny head of hair can take under 10 minutes (or 5 mins if you turn this look into a single braid)! Sounds pretty good, right? This look is way too adorable and trendy to not at least try.
To achieve this look, section her hair down the middle. On one side at a time, take the front section of her hair and separate it into three equal parts (left, middle and right). Take the left section, cross it over the middle section and combine it with the right section (still with us?!). Now take the right section, cross it over the middle section and combine it with the left section (you've totally got this). Continue with this pattern, but start picking up more of her hair with each new outer section. For example, add more of her hair into the right section, cross it over the middle and combine it into the left section. Repeat on the opposite side and continue like this until you've reached the base of her nape, this is where her french braid will transition into a regular, three strand braid. Braid until you reach her ends and secure with an elastic. Look at you go, you've mastered the french braids! You're already dreaming about trying fishtail braids, aren't you?
Variation 1: Skip the piggies and go straight for a classic, single french braid. We're swooning, this look is so sweet!
Variation 2: Try upgrading your french braids to reverse french braids. Simply cross your sections under instead of over. Your little ones braids will look more defined and sit on top of her hair instead of flowing into it. We can already tell that she's one stylish little babe if she's rocking this look!
Our favourite way to polish off this style is with our pigtail or twist knot bows. Try placing them at the base of her nape (aka where her hairline stops, as featured in the photo) or at the very bottom of her braids for a more playful look.
There you have it friends, Our Top 5 Toddler Hairstyles! We sincerely hope that you've found a new hairstyle to try on your tiny trendsetter or that we've inspired you to fall in love with an old favourite. Remember to keep things simple, our little ladies don't like sitting for too long and their little scalps may be more sensitive than our own. Try switching things up with different variations if you're getting bored with the same looks, and play around with different bows! A brand new set of bows may be all you need reignite your hairstyling spark. Have fun, be gentle, and go detangle that little head of hair! Until next time. xx
Yours truly, Alana
Master Journeyman Hairstylist & Founder of knotted crown
Let us know your favourite style in the comments below. Trying out one of these new looks? Be sure to tag us on instagram @theknottedcrown, we would LOVE to see!