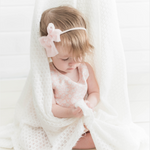 Have you ever felt those feelings? The ones that make your heart grow ten times bigger in a split second, make you feel an overwhelming amount of gratitude, and leave you in a state of peaceful bliss? The feelings that are brought on by watching your beautiful baby girl sleep in your arms...
What is it about bows that make these moments a little sweeter? I never use to be the type who swooned over the perfect shade of pink or, quite frankly, really even liked the colour at all. What is it about baby girls that send our desires for pink, and everything else "girlie", into over drive? After I found out we were expecting a baby girl, I convinced myself that she would be dressed in her brothers hand-me-downs (as long as she had a bow on it'd be fine, right?). That lasted a hot minute. After the first pink purchase, they kept flowing in until we were nearly drowning in a sea of pink. I'm not sure what it is about slipping my sweet little babe into a dress and topping her with a bow that is so satisfying. To be honest, even the days when she's lucky to be wearing a onesie, I find that I've still managed to pop on a bow.
I use to get myself ready everyday, then I met motherhood. It's not that I lost motivation to get ready, I would just rather spend that time with my babies (even if that means watching them sleep). After trading in my hair extensions and curling wand for messy top knots and dry shampoo, there's something about my daughter wearing a bow that makes me feel like I've still got it all together. Bows are like the cherry on top of our perfect little sundaes. Or rather, the bow on top of our perfect little babes. Some days it's hard being a mom and some days it's the most amazing and rewarding thing you could ever imagine. No matter what kind of day it is, there's something about bows that make it all a little sweeter. What is it exactly? Is it that they take our little ones cuteness up-a-notch? Or is it that little bit of extra love passed down from mother to mother? After all, our grandmothers placed bows on our mothers, who then placed them on us. Whatever it is, it makes me extra happy. I hope that our knotted crown bows are able to bring a little extra happiness to your days too. 
Yours Truly,
Alana
Founder of knotted crown